Let's Talk About Porcelain Dental Veneers
Dental veneers are thin, custom-made shells that dentists permanently place on the front of the teeth to improve their appearance. For some people, having damaged or unsightly front teeth can affect their confidence or self-esteem. Dental veneers may be a cost-effective solution to improve the appearance of teeth.
On this page, we explain what cosmetic dental veneers are, the different materials used to make veneers, costs, benefits, and the fitting procedure.
It's well known that people with the damaged or unsightly teeth can cause a lifetime of embarrassment and even shame. Some people's teeth erupt misshapen, deeply stained, or with malformed enamel, where one develops the habit of covering their hand over their mouth when smiling, all of which veneers can mend.
Aging can also cause changes with teeth, from appearance to the weakening of enamel, and may cause some sensitivity, in which cosmetic veneers can protect and restore while at the same time, give a beautiful smile.
The thought alone to approach your local dentist about cosmetic dentistry can be intimidating because veneers are not cheap. The good news is that our dental offices in Mexico offer affordable veneer options.
Common Reasons to Consider Cosmetic Veneers . . .
Misshaped teeth
Chipped and/or small missing pieces
In some cases, root canalled teeth
Discolored teeth, where bleaching is not effective, such as Tetracycline stain
Teeth that have been worn and shortened
Spacing of teeth too far apart
Thinning teeth
Crookedness
Gaps between the teeth

Cosmetic dental veneers can help improve the appearance of a person's teeth, greatly increasing their confidence. Veneers can be beneficial for people who wants a long-term solution to persistent cosmetic concerns—especially for those that do not respond to other dental treatments, whitening, braces, or other orthodontic treatment.
During the placement process, a dentist will typically remove a small amount of enamel surface, which is the thin protective outer covering of the teeth. Once a dental veneer is placed, it can only be removed by a dentist.
Common Materials Used to Make Dental Veneers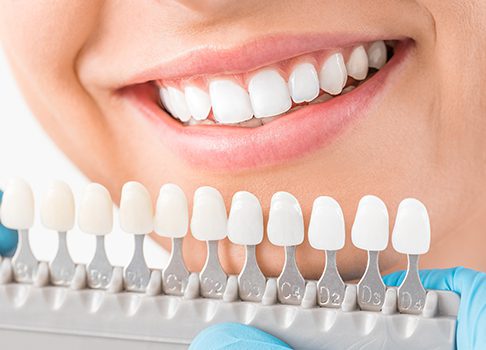 Porcelain and resin-based are the two most common materials used for cosmetic dental veneers. To attach any veneer, porcelain or resin-based composite, the dentist will remove some amount enamel from the tooth before placing them.
Porcelain Veneers
Porcelain veneers are a strong, thin overlay that a dentist can place on the tops and sides of the teeth. Porcelain veneers are usually more expensive than resin-based veneers, because the material is stronger and looks more natural.
Resin-Based Composite Veneers
Resin-based composite veneers are similar to porcelain veneers, but they tend to be less expensive and require less enamel removal. Sometimes, a dentist may not have to remove any enamel before placing the composite veneer. Cosmetic veneers are not cheap, in fact on average, veneers typically range from $1,000-$2,000 per tooth! Imagine your quote for six cosmetic veneers from the fancy boutique cosmetic dental office being $12,000, yikes!
At our approved dental offices in Mexico, you can get the same quality of material used by American dentists at a much cheaper price. Our dentists use the exact same brands as U.S. dentists to fabricate your customized veneers.
Comparing Porcelain to Resin-Based Composite Dental Veneers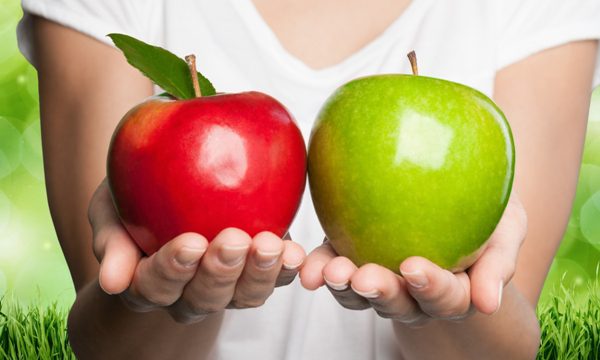 Both materials tend to be a permanent decision, as they both can interrupt the original enamel to varying degrees, so if there is a problem, the tooth must always be treated to cover it again. Porcelain veneers costs more than resin-based veneers but the appearance is translucent with a light reflective quality, which mimics enamel.
Some dentists recommend using an occlusal guard (AKA night guard) night guard to protect your veneers where you may unknowingly clench or grind your teeth. You can get a night guard in Mexico for around $150.
Conditions that Cannot Support Cosmetic Dental Veneers
Pre-existing large fillings or decayed teeth
Deep overlapping teeth or severely mal-positioned
Advanced to severe periodontal disease (can be a candidate sometimes if treated)
Severe recession with too much dentin (root) exposure
Severe bruxism (clenching or grinding)
Choosing One Material Over the Other
Your dentist in Mexico will advise you of the pros and cons of different materials. Since porcelain is superior, that's what most dentists recommend, however, if you are younger, and or, your teeth are vulnerable to re-injury, then porcelain may be recommended. When teeth are worn down and sometimes shortened where you can see yellow on the biting surface, crowns may be needed. It's reassuring to know that there are viable options to enhance and improve your teeth.
Want to learn more about getting cosmetic veneers in Mexico? Call us today at (505) 738-7770 or click this link to send us your inquiry and we'll get back to you.