Let's face it, no one ever looks forward to getting dental work.  We at Beyond Borders want to make getting dental work done at a price you can afford as easy and seamless as possible.  This is why we offer our "dental concierge service" where we coordinate your care with a high quality dentist in Mexico for treatment at up to 80% less than your local dentist and we even drive you there.
Our dental concierge program is a full-service program that takes you from Santa Fe or Albuquerque, or other select locations, directly to your dentist's office in Palomas.
We are literally with you every step of the way.  We do offer a self-service option for those who prefer to drive themselves, but the concierge service is still the number one option taken by our clients. Here are the top 5 reasons why it's so popular:
#1 It's easy:  Let's face it driving 4 to 5 hours can be stressful, especially to a destination you've never been to before.  This is why dental concierge service option is a favorite among our clients.  We have conveniently located service centers in both Santa Fe and Albuquerque, and by special request we may be able to pick you up even closer to home.
Our driver will pick you in our comfortable 12 passenger air conditioned van and transport your dental appointment in Palomas, Mexico. You can kick back and relax while you read, nap, listen to music, or surf the Internet on your phone or laptop.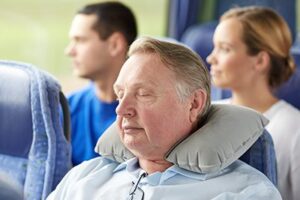 More importantly, our staff drivers will chauffeur you on your return back home.   If you've had extensive dental work done and are groggy, you won't have to worry about driving, you can rest and recuperate instead.
Client Jennine described her experience of using our concierge service, "The whole process is well thought out. You don't have to do anything but just show up. You just feel great. It's just nice to be that pampered when you're going to see the dentist. It's kind of nice to have somebody hold your hand through the whole process." You can read and her story and watch as we follow her to Palomas with cameras here.
#2 It's safe:  Palomas is a small town of only 5,000 residents.  Unlike the larger cities of Juarez and Tijuana, which have histories of drugs and violent crime, Palomas is a quiet and safer option.  Just as you would in any place you've never been before, it's important to use common sense and awareness, but the Beyond Borders staff will make sure you are directed to the merchants and businesses where our clients feel safe and comfortable.
With our dental concierge service our staff escorts you to your appointment.  You do not have to worry about parking your car at the border nor crossing the border on your own.  In fact, we will take you directly to your dental office and pick you up when your treatment is complete.
We recommend using our concierge service if you have never been to Palomas before.  This way you can get a feel for the town and if you choose, go on your own the next time.  Because of the ease and convenience, many of our clients choose to use our concierge service over and over again.
#3 It's affordable:  Did you know that opting for our concierge shuttle service actually costs less than driving yourself to Palomas?   According to the AAA analysis of the cost per mile in 2015 (58.1 cents per mile for a mid-size sedan), the cost to drive roundtrip from Albuquerque to Palomas is $313.20 and from Santa Fe it is $382.80.  Most people just consider the cost of gasoline, neglecting the more important costs of wear and tear on your vehicle, depreciation from additional mileage, and wear on your tires.  Yes, it's actually cheaper (and easier!) to allow us to do the driving for you.  We drive, you rest and relax.
The Beyond Borders transport service from Albuquerque to Deming NM, and then free transfer to Palomas is only $210 (a savings of approximately $103). The cost from Santa Fe is only $250 (a savings of approximately $133).
#4 It's fun:  Can getting dental work really be fun?  Actually, yes and this is from the mouths of our clients! Many describe their dental trip as "like a mini vacation".  When you select our dental concierge service, you will get to sit back and enjoy the beautiful southwest scenery of our state.  And of course we will stop at places along the way like Hatch where you can get buy some yummy spicy chilly goods.
After your dental treatment, enjoy shopping in the colorful and friendly town of Palomas where you can enjoy Mexican food and buy artwork, home decor, custom-made leather boots, and more.  With our concierge service you will receive an extra bonus of coupons for more savings with our Palomas Partners merchant program.  Save on eyeglasses, gifts, handmade shoes and boots, hearing aids, and more.
#5 You'll make friends:  When you select our concierge option, you will be going down with a group of other Americans getting dental work too.  You will have the chance to connect on the van ride down and back, and we find people forming wonderful friendships—exchanging phone numbers and emails, and sharing the experience of Palomas. We'll spend the night in Deming at our hotel lodging partner and enjoy dinner together at one of our restaurant partners—all part of the fun.
The next morning, everyone will meet up to have a complimentary hot breakfast before the final leg of the journey, the 30 minute drive to Columbus and border crossing to Palomas.
After your dental treatment, you'll meet up with the rest of the folks on the trip and can have lunch together at the famous Palomas Pink Store.  It's a really amazing experience to go down with other people. Together, you will all be on a dental tourism adventure.
Interested to know more about our services?  Take a moment to fill out a free price quote form here or call us today at (505) 738-7770 and we will be delighted to answer any questions you may have.