What Are Snap-on Dentures (Overdentures)?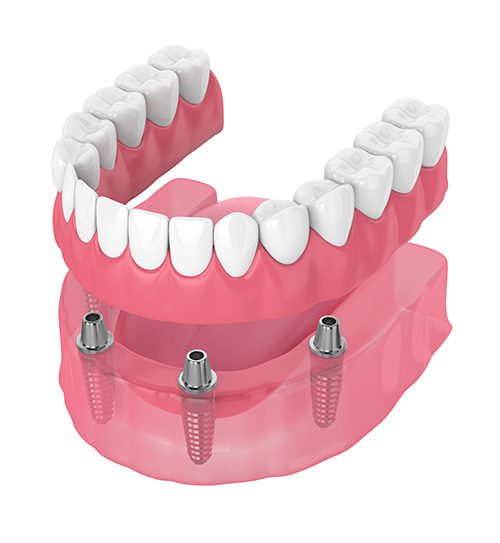 Snap-on dentures are is a removeable denture with implants, for stability. Snap-on implants need locator abutments (like a button). When it's a Snap-on denture, you have a button located on the gum. Snap-on dentures combine the advantages of conventional dentures with dental implants. Snap-on dentures are also called implant supported dentures or overdentures and are a more permanent alternative.
The denture is supported by metal posts in the jawbone, not just the gums. Bone regrows around the implant, a process known as "osseointegrate", accepting and bonding the dental implant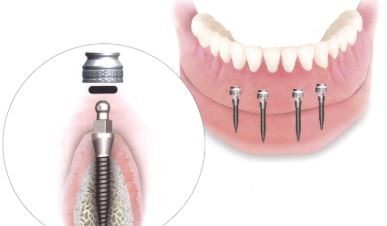 to the bone.
Are Snap-on dentures Your Best Option?
Snap-on dentures were designed for patients who are suffering from severe tooth decay or missing teeth, however, Snap-on dentures may not be the best choice for everyone.
The jawbone must be fully developed so there is enough bone to support implants. Snap-on dentures are most suitable for adults and seniors. Moreover, patients in good health and are non-smokers have a lower chance of early failure. If failure does occur, the patient would have to consider other options.
What's the Pros and Cons of Snap-on Dentures?
Snap-on dentures will not slip off or trigger a gag reflex, they're not maintenance free. They require nightly removal and cleaning.
They don't cover the roof of your mouth so allows for more taste sensitivity.
They can prevent further bone loss but do require surgical placement, a process that can take up to six months.
Although typically more cost effective over conventional dentures, Snap-on dentures can still be pricy depending on your case.
Final Thoughts on Snap-on Dentures (Overdentures)
If you're considering a Snap-on denture procedure, educate yourself with the common failures of this procedure. There's a lot of articles written on Snap-on dentures.
If you decide that Snap-on dentures are your best choice, avoid mini-implants. Mini-implants are well-known for a high failure rate.
Snap-on dentures (overdentures) can provide patients 40 to 50% of their chewing ability (compared to natural teeth). Snap-on dentures on average last five to ten years.
Snap-on dentures can provide lip support to prevent physical changes in a patients face. The All-on-4 procedure is not best for all patients.
If a patient has enough bone, Snap-on dentures can be an option but typically not recommended. It's only recommended for patients who want All-on-4 (fixed dentures) but can't afford it.
For more insight on how to determine if Snap-on dentures are right for you, check out our Snap-on (Overdentures) blog.
If you're interested in getting a no-obligation, complementary dental treatment estimate for your individual case, click this link to send us your inquiry and we'll get back to you.