As part of our referral services, we check out some of the best hotels in the general area where our patients can safely and conveniently stay while getting dental care. In some cases, hotels offer our patients special rates. Based on feedback from our patients below is a list of hotels we recommend. We confident you too will enjoy your stay and save money!
Our Recommended Hotel for Juárez, Mexico Patients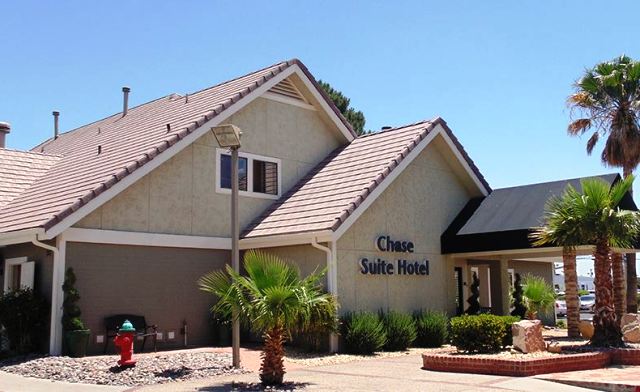 The Chase Suites of El Paso is conveniently located off interstate 10 in El Paso, Texas. This quiet hotel welcomes you with residential-inspired lodging near the heart of El Paso and the border. Book a stay in one of our studio or two-bedroom suites with fully-equipped kitchens, cozy fireplaces and a breakfast bar. Ideal for extended stays, their hotel is minutes from the airport, local area wineries, shopping, and downtown El Paso, and their complimentary shuttle service makes getting around easy, taking you anywhere within three miles. Unwind by the pool, or wake up and start the day with a freshly-prepared breakfast buffet, featuring all of your morning favorites, before setting out to see what's waiting nearby. Overnight parking is easy and safe on the secure grounds.
Note: Chase Suites of El Paso offers our patients a special rate. If you want to stay here, please call the hotel directly. Be sure to tell the receptionist you're a Beyond Borders Dental patient to get our special discount. Otherwise, you will be charged normal rates. Remember, local transportation to/from our dental clinic is complementary from Chase Suites of El Paso.
~  ~  ~  ~  ~  ~  ~  ~  ~  ~  ~  ~  ~  ~  ~  ~  ~  ~  ~  ~  ~  ~
Our Recommended Hotels & Airbnb's for Cozumel, Mexico Patients
Below is a current list of hotels and Airbnb's we recommend for our patients. You can follow our recommendations or choose another hotel not listed. There are several hotels and Airbnb's to choose from on the island of Cozumel. We highly recommend you pick a hotel located in San Miguel, the main city of Cozumel so you're near the downtown area. Click this link, for all you need to know about downtown Cozumel, Mexico. It includes a map.
You make your own reservations, or we can help you and possibly get a better rate. We would need to know your travel dates in advance.
Hotels we frequently use for our patients are Suites Colonial Cozumel and Casa Mexicana Cozumel. They are conveniently located downtown and our dental clinics.
Hotel Cozumel is another resort where our guests stayed and gave good reviews. Located 4.4 km from Cozumel International Airport, this relaxed resort with colonial styling faces the Caribbean Sea.
Hotel B Cozumel is an older but well-established hotel often used for wedding venues and special occasions on the island.
Oceanfront 2 BDRM Airbnb with amazing views located just minutes from San Miguel's town center on the island.
Presidente Inter-Continental Cozumel Resort & Spa is more expensive. It offers upgraded facilities and a unique vacation experience for the discerning traveler.
Remember, local transportation to/from our dental clinic is complementary from your hotel or Airbnb.