How to Get Low Cost, Quality Dental Implants in Mexico
If you're in the market for an affordable, high-quality dental implant, you may be feeling a bit (or a lot) of frustration. Dental implants in the U.S. can cost upwards of $5,000 or more and very little is covered by dental insurance. Luckily, if you live near the Mexico border, you have a cheaper option for dental implants.
You can venture off to Mexico and be one the thousands of Americans that participate in dental tourism every year. You may have doubts and fears about traveling across the Mexico border for affordable dental implants — you are not alone, but if you're reading this you must be curious.
Here are some MYTHS about traveling abroad for low-cost implants
1. The Dental Care Will Be Low Quality: Contrary to what some people believe, dentists in Mexico receive the same kind of schooling and professional training as dentists in the U.S. They also use similar equipment and anesthesia techniques. And, one of our implant specialist has been pioneering dental implant techniques in Mexico since the 1990's. This means you can save money on affordable, high-quality dental implants.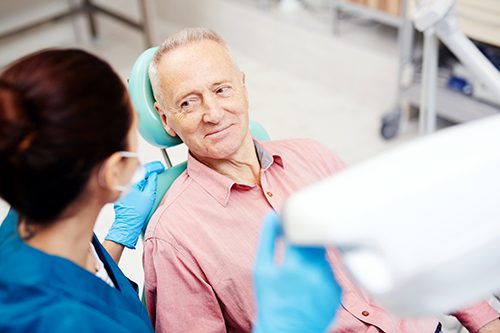 2. There Are No Guarantees: All of the dentists in our program offer a full guarantee on their services, some guarantee their work up to four years. If for any reason you are unhappy with the treatment, or you need an adjustment, just contact us and we'll arrange for a return visit to correct the concern.
3. It's a Complicated Hassle: From the moment you contact Beyond Borders Dental to get a high-quality dental implant, you won't have to worry about anything. We will refer your case to the best dental clinic for your individual case, email your case details to the clinic on your behalf, for a preliminary assessment.
4. It's Hard to Find a Reputable Dentist in Mexico: This one is a partial myth. Because dental tourism is so popular in Mexico, there are a lot of "pop-up dentists" that have no business doing anything to your teeth. If you travel to Mexico on your own without any professional knowledge or without doing due diligence, it can be difficult to differentiate between these "dentists" and wanna-be dentists. However, if you choose to work with a reputable dental referral agency that specializes in pairing American patients with highly qualified dentists in Mexico, then you won't have to worry about this. Only thoroughly vetted and approved professional dentists get into our programs.
You may be thinking, "If all of these myths are, in fact, myths, then why is the cost of dental implants in Mexico so much lower than it is in other states?" That's a good question. From the outside looking in, it may seem strange to see such a big price gap. But there are a lot of reasons why you can get cheap dental implants in Mexico.
First and foremost, the cost of living in Mexico is much lower than the cost of living in the states. The cost of all goods is adjusted accordingly. Also, dental school is subsidized in Mexico.  When aspiring dentists go to school, they don't have to take out student loans to pay for their tuition. When they graduate and start their own practices, they don't have to charge high prices to pay off their debt. Even if they wanted to charge higher rates, they couldn't; the Mexican government puts caps on the cost of medical and dental care.
Facts About Getting a Low-Cost Dental Implant in Mexico
How much does it cost? A dental implant through Beyond Borders Dental in Mexico starts as low as $1,500 and includes surgical placement of the implant, abutment, healing cap and crown.
How much money will I save? That depends on what your dentist quoted you. In most cases, you will save up to 50% compared to the cost of dental implants in the states.
What is the process? Send your inquiry to us to get started, click this link.
Is there a guarantee? Yes. There is a 100% guarantee up to fours years.
If you're ready to get an affordable, high-quality dental implant in Mexico, then stop looking in the states and point your (metaphorical) wagon south. Simply by traveling to Mexico, you can save over a thousand dollars on your implant and receive excellent quality dental care at the same time.
To find out more about how you can get affordable, high-quality dental care in Mexico, call us today at (505) 738-7770 or click this link to send us your inquiry and we'll get back to you.