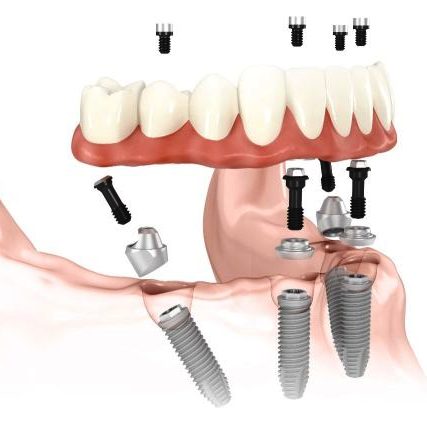 The All-on-4 procedure is actually a brand of permanent implant dentures developed by Nobel Biocare™ using four implants and a fixed denture called a hybrid. Our dental clinics in Mexico only use Nobel Biocare™ All-on-4 implant denture parts and material—the same product imported from Switzerland.
To fully understand this remarkable technique for replacing teeth, you should first understand what a dental implant is. An implant is a small titanium screw that fits inside your jawbone and replaces the root-part of a missing tooth. Minor surgery is required to insert the implants. Once the implant is in place, a crown is attached to give you a highly realistic-looking and functional prosthetic tooth.
Here's where it gets really interesting—you do not need a dental implant for each and every one of your missing teeth. All you need is four precisely placed implants on the top of your mouth, and four on the bottom, to restore your full smile. That's the beauty of the all-on-four. And because the implant is made of titanium, it has the unique ability to fuse to living bone and function as part of it. So eventually, the dental implant becomes part of the jawbone and serves as a strong, long-lasting foundation for your new teeth.
Besides ensuring that your implants are permanently fixed in place, this bone fusion has another important benefit—it prevents future bone loss in the jaw. This helps to maintain a more youthful facial structure and better oral health. But perhaps the biggest surprise about the All-on-4 system is how quickly it can transform your life.
IMPORTANT: Problems with the All-on-4 procedure can be caused by an inexperienced provider. Properly placed implants are very important for a successful, long term All-on-4 restoration. Be sure the doctor placing your implants has the skill and knowledge to insure lasting benefits—not just anyone can do this procedure and have the best outcome.
Here are some frequently asked questions we receive about the All-on-4 procedure
Does Beyond Borders Dental do Same Day Implant Dentures?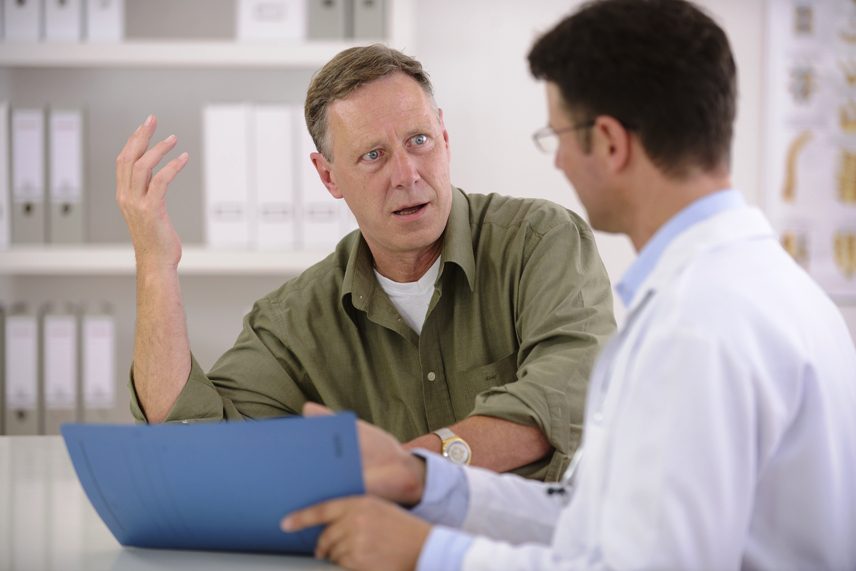 Yes and no. There's a popular trend to gain your business by advertising same day teeth replacement with implant dentures.
However, same day teeth is a half truth because you will leave after surgery with temporary dentures. You can expect follow-up appointments in order to achieve the permanent denture. Our dental clinics are focused on quality and do not take short-cuts, more less use misleading marketing ads. If any clinic assures you are receiving your permanent denture as a "one time only" visit, know this is a huge red flag.
What Is The Training Of The Implant Dentists In Mexico?
Beyond Borders Dental carefully selects the most highly trained and board certified dentists; some of which are leading educators in their field with years of experience.
How Does the Cost of Implants through Beyond Borders Dental Compare to the U.S.?
Depending on where you live, you can expect the All-on-4 procedure at our Mexico clinics to be at least 50% less than in the U.S.
What is the Warranty on Implants?
Our Mexico dental offices offer a 4-year warranty on all implants and All-on-4 procedures. Their guarantee includes a yearly check-up appointment.
What is the Success Rate of Implants with Beyond Borders Dental?
Our carefully audited rates of success are 99% and we will be happy to show you our figures at any time. This is an excellent outcome and is due to both the skill and expertise of our dental team, and to the quality of materials they use.
Do I Need to See My Dentist Before Scheduling an All-on-4 Procedure with Your Clinic?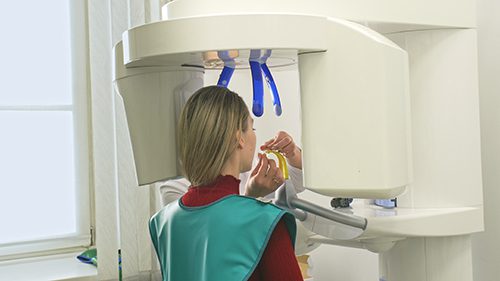 Our clinics are fully equipped with high-tech X-ray machines, CT scanners and the latest equipment in the dental industry. Any evaluation and procedure can be done onsite, however, for invasive procedures such as the All-on-4, our dentists prefer you get a cone beam CT scan within three months prior to scheduling an appointment. It's important to get the whole picture and an accurate cost estimate.
For the best results, the All-on-4 procedure requires a comprehensive evaluation by their Implantologist so they can plan and be well prepared in advance. Even if they discover something in the in-office exam, they'll be ready for any unforeseen contingencies. We feel strongly that you should be well informed, have all your questions answered, and know what to expect before you travel. Our implant dental offices have all the technology needed for a full consultation, including the necessary CT scan X-ray to analyze your bone for implant placement.
How Long do All-on-4's Last?
Depending on your home care maintenance but typically All-on-4 permanent implants last a lifetime. Sometimes, the crowns or hybrid attached to the implants need repair or replacement.
Do I Need to go to the Dentist in Mexico for Maintenance or Upkeep?
You do not need to go exclusively to the Mexico dental office which placed your implants for maintenance. You can go to any dentist in the U.S. of which the majority have the tools to work with your implant/crowns or implant/hybrid, and anywhere in the world where the leading implant brands are used. However, Beyond Borders Dental is always here to provide you with any follow-up appointments you may ever need.
Do you have more questions?  If so, please contact us and we'll get back to you shortly.