Beyond Borders has selected dental clinics in Palomas, Mexico that we consider to provide the best overall quality and value, so we can save you the most money while offering the highest level of care.  We offer two dental tourism programs to meet your needs, the Dental Concierge Program and the Self-Service Program.
Self-Service Program
The Self-Service dental tourism program is for someone who is more comfortable crossing the border  and finding your dental clinic in Mexico on your own. You can book your appointment through us, drive yourself to Palomas, and get your dental work done in Mexico.
Read more…
Dental Concierge Program
The Dental Concierge Program is a full service dental tourism program that delivers you right to your approved dentist's door in Mexico for the same cost or less than you can drive yourself. It takes all of the worry out of cross-border dental services.
Read more…
No matter which program you choose, we will:
Help you with your dental treatment plan
Get your quote for getting your dental work done in Mexico
Book your lodging with our preferred hotel partner
Schedule your appointment at one of our approved dental clinics in Mexico
Follow up with you after your appointment
Side-By-Side Comparison of Dental Tourism Programs
| | Concierge Program | Self-Service Program |
| --- | --- | --- |
| Savings of 70%-80% | Yes | Yes |
| Approved Clinic | Yes | Yes |
| Discount Lodging Included | Yes | Yes |
| Transportation Included | Yes | No |
| Border Transfer and Guide | Yes | No |
| Accompaniment to Clinic | Yes | No |
| Merchant Discounts Included | Yes | Yes |
By booking through Beyond Borders, you can be confident that you are getting work by quality dentists in Mexico, and you never pay more for your dental services by booking through Beyond Borders.
Dental Concierge Program
If you have not had dental work done in Mexico before, we highly recommend using our dental tourism concierge service. A knowledgeable Beyond Borders guide will drive you in our comfortable van from our service center in Santa Fe or Albuquerque directly to your dentist's door in Palomas.  Based on the AAA driving cost analysis, it is actually less expensive than driving in your own car.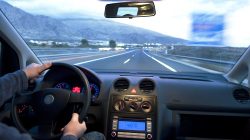 Our concierge fee includes:
Transportation directly to Deming, New Mexico (on the US side) and accompanied transfer across the border to your dentist in Mexico
A one night stay at our partner lodging/accommodations in Deming
Special discounts in our Palomas Partners Program for savings at local merchants, pharmacies and restaurants
With the Beyond Borders Dental Concierge Program, there are no worries about how to get to Palomas, how to cross the border, what documentation is necessary, where to stay, and especially no concern about driving back on your own after extensive dental work has been done in Mexico.  We've made it so easy for you by looking after every detail.
Self-Service Program
For those who prefer to make the trip to Palomas, Mexico for dental work on their own, we offer a Self-Service Program.  We will get you a quote based on your dental treatment plan, schedule your appointment for great savings in one of our approved Mexico dental clinics, and book your lodging at our special discount rate.
You will still find much of the information on this website helpful in planning to travel on your own and we are glad to help with directions to Palomas and a map to be sure you can find your Mexico dentist.  Information about navigating crossing the border and documentation necessary can also be found on the website here.
If you haven't been to Palomas before, you might consider using the concierge service first.  This will allow you to experience going to Palomas, crossing the border, and finding your dentist in Mexico, without any stress.  And you don't have to worry about driving back after getting extensive dental work in Mexico.  Then, if you prefer to drive on your own for subsequent visits, you will have been shown the ropes.
Our dental clinics are located in Palomas, Mexico, only a 4 hour drive from Albuquerque and a 5 hour drive from Santa Fe. With such close proximity to both cities, dental tourism in Mexico is an affordable option for those looking for a dentist in Santa Fe or a dentist in Albuquerque.
With Beyond Borders, you can be sure you save lots of money and get the quality of care you deserve.