Palomas, or Puerto Palomas, Chihuahua Mexico, is a quiet town of less than 5000 residents just south of Columbus NM. Most famous as the site of clashes between US forces and Pancho Villa in 1916, today it is best known as a border town offering quality dental services, same day eyeglasses at excellent discounts, and prescription drugs at savings of up to 80%. The town is about a four hour drive from Albuquerque NM (270 miles) and about a five hour drive from Santa Fe NM (330 miles).
Crossing the Border
As a border crossing city, Palomas contrasts sharply with Juarez (population 1.5 million) and Tijuana (population 1.8 million). These cities, which adjoin El Paso and San Diego, are crowded and prone to the crime that has concerned travelers to Mexico in recent times. In addition, crossing the border in Juarez or Tijuana can take hours, as opposed to Palomas, where a simple parking lot at the border allows easy walk-in access to all dental clinics and merchants within a few blocks of the border.
Crossing the border – Juarez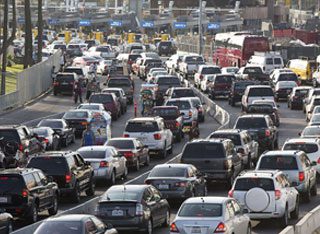 Crossing the border – Tijuana
Crossing the border – Palomas
Palomas Weather
Palomas' weather is not unlike southern New Mexico, and it even can see up to five inches of snow annually. Here is an overview of average temperatures and rainfalls for Palomas.
Jan
Feb
Mar
Apr
May
Jun
Jul
Aug
Sep
Oct
Nov
Dec
Low (F.)
37
42
50
60
68
69
69
62
52
40
32
32
High (F.)
60
66
73
82
89
98
96
93
89
80
68
60
Rainfall (in.)
<.4″
<.4″
<.4″
<.4″
<.4″
1.65″
1.90″
1.20″
<.4″
<.4″
<.4″
<.4″